KT's Small Town Girl Sweeps Monroe!
KT's (Kathy Tellechea and Pam Renfro) broken black doe has made MRFGNW history by winning Best of Breed in all three of the Specialty Shows on August 11, 2007. This stunning doe has won 5 Best in Shows, 4 Best in Specialties. She has been on the table 12 times and has earned 12 BOV. Congratulations Kathy & Pam!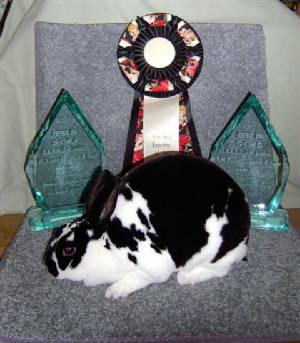 Bremerton, WA -- April 22, 2006 (Show A)
BOSB Himi Doe owned by Marian Brown & BOB Broken Buck owned by Barbara Hanson.
Hamilton, MT -- KT's Wins the BOBO
KT's won both BOB and BOSB in Show A and Show D. In Show A, they also won BOBO*.
Hamilton, MT -- Show B -- MRFGNW Members Win Again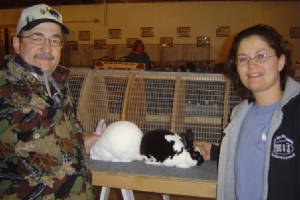 New member Allan Lakusta from Canada and Dorianne Minkoff-Brown took top honors in Show B.