Youth Winners
Our Youth members did very well in both the open show and the Youth show.
Emily and Willow Foley won BOV with their SR Castor Doe in the Open Show on Saturday. On Sunday, this doe took BOB and RIS in the Youth show.
McKenzie Bell won BOSV Black, BOSV Tort, BOV REW and BOSV REW.
WSRBA Sweepstakes Winners
Mini Rex breeders did very well in the WSRBA Sweepstakes Competition. In the OPEN Competition, Kathy Tellachea and Pam Renfro took 1st Place and in FUR, 1st place also went to Kathy & Pam. Congratulations!
I know we had several other high placers -- please email me (
hhnews@yahoo.com
) and I'll add your name.
YOUTH:
Emily Brown -- 8th Place Overall
Open Show Highlights
Joan Bell
Show A BOV REW Doe
BOSV REW Buck
Show B BOV REW Doe
BOSB & BOSV REW Buck
Kelsey Bell
Show A BOV Blue
Show B BOV Blue
Emily Brown
Show A BOSV BEW Doe
Youth Competitions
Our Youth also competed in the Royalty Competion.
McKenzie Bell won 2nd Runner Up Princess Royalty Court, 4th Place Breed ID, and 4th Place Achievement Contest.
Emily Brown placed 2nd in the Over 15-Hole Rabbitry Management Contest and 3rd place in the Judging Contest.
We should all say KUDOS to all the youth who participated as this was a very difficult contest. They represented our club very well.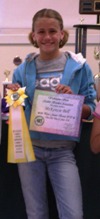 Mary Ness Receives President's Award
Long-time rabbit breeder, registrar and good friend Mary Ness received the special President's Award from WSRBA President Jean Harris. This award is not given every year and goes to someone that stands out as a supporter of WSRBA. Personally, I can understand why Mary received this honor. She has always had time (or made time) to help others -- especially the Youth. She supports ARBA/WSRBA both in actions and in her heart. Congratulations Mary.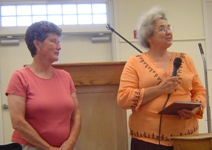 Judges Conference Featured Mini Rex
On Friday evening, there was the annual Judge's Conference. For those who did not attend, I highly recommend you make plans to attend next year. This is a two-hour seminar with several guest speakers. One of this year's topics was the new varieties of Mini Rex and the varieties being worked on. This was very interesting and gives us all something to think about...for example...how can we possibly fit more rabbits in the barn!
Pictured below -- Cindy Wickizer, Jan Coffelt and Gene Hoffman looking at the Sable and Sable Point Mini Rex.